Start your teaching journey here. Take your first step into English language teaching – in the beautiful Italian city of Pisa.
The CELTA course provides practical, initial training in teaching English as a foreign language, and NILE is delighted to work with our partners at The British School Pisa to deliver this course at their premises.
On a full-time, 4-week face-to-face course at The British School Pisa, you will be taught in a group by our experienced trainers, have full use of their resources and teach a real class of learners living locally.
Is this course for you?
Location: Pisa, Italy
Experience: An interest in pursuing a career in English Language Teaching
Language Level: C1/C2
Course dates:
3-28 July 2023
Certification: Cambridge CELTA
Course Length: 4 weeks
Course fees: €1690 (Payable in 3 installments)
Minimum age: 18
Max class size: 12
Social and cultural programme
Centre for learning differences
Complementary eLearning platform
The course includes
6 hours of teaching practice and feedback 6 hours observation of experienced teachers in the classroom
About 50 hours of practical input sessions on methodology, language awareness, phonology and professional development
About 20 hours of lesson preparation, initially supervised by the course tutors
4 written assignments
At least one private tutorial to review progress
Understanding the relationship between the learner, the teacher and the teaching/learning context
Language analysis and awareness
Language skills: reading, listening, speaking and writing
Planning for effective teaching of adult learners of English and resources and materials for teaching English to adults.
During input sessions you will find out more about how the English language works, in terms of grammar, vocabulary and pronunciation, as well as learn about practical teaching methodology (how to set up a classroom, best use the resources at your disposal, deal with different learners, give correction and so on). These sessions aim to help you with your teaching practice.
In addition to input sessions, you will do at least six hours' teaching practice and observe six hours of lessons from experienced teachers. After each teaching session you will be given detailed feedback on your performance, and you will be given an opportunity to comment, reflect on and learn from the lesson observations.
Excellent! Thought-provoking. Structured and balanced. Quality, detailed feedback on practical issues. Excellent provision by a talented, knowledgable and dedicated team of professionals.
Amanda,
September
Our teachers were incredibly communicative and supportive for our individual needs. It was a wonderful place to learn with a lovely atmosphere.
Seamus,
September
Further Information
Candidates are assessed continuously during the course and there is no final examination. An external assessor, appointed by Cambridge ESOL, moderates each course. Completion of the course does not guarantee the award of the Certificate. There are two components of assessment: teaching practice and written assignments. To be awarded the certificate candidates must pass both components. There are three grades: Pass, Pass B and Pass A.
Application process:
When we receive your application form – attached to the course dates below – we will contact you for your CV and to complete our Application Task focussing on previous language teaching/learning experience, language analysis (please see example question below) and reasons for taking CELTA. Once you send us that, we arrange an interview either face to face or via Zoom.
British School Pisa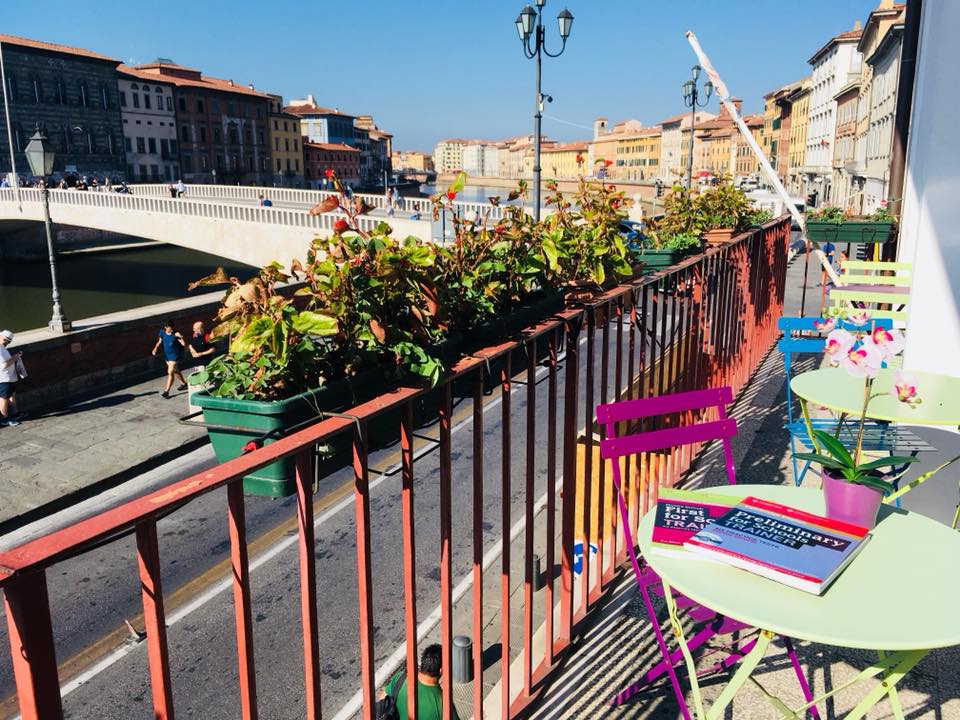 The British School of Pisa srl was founded in 1978. We now have 4 centres, Pisa, Pontedera, an online school and a Cambridge exam centre. Our main work is teaching English to Italians and Italian as a foreign language. British School Pisa works with around 3000 students each academic year. This has placed us as one of the top language schools In Italy. At present British School Pisa employs over 40 people of which 30 are trained teachers. We are also a major center for Cambridge Language Assessment exams, a Preliminary Preparation centre for the OET medical exams and a Platinum center examining about 4,000 candidates a year.
Example language analysis question:
Look at the verb underlined in the sentences below. The verb is in the wrong tense.
i) correct the sentence
ii) name the correct tense
iii) explain why the tense is used; what meaning is conveyed.
I worked on my assignment when the phone rang.
Course dates

Location

Course length